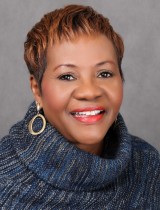 As an experienced Broker since 2005, Portia has successfully gained the knowledge, skill and confidence to become accomplished in Buying/Selling, Leasing/Property Management or land acquisition.

As one of Champions Real Estate Property Managers she is available to assist you with all your leasing needs.
During her career Portia has been awarded the President's Award for Gross Sales, and successfully leased over 75-homes in a few months of contracting at IH in Bellevue.

Portia remains committed to her business and clients, as she effectively works to achieve and maintain the respect and trust of each valued client. Who value her ability to listen, problem solve and negotiate the best outcomes for them.

Contact Portia today to find out how her team can assist you with Buying, Selling, Leasing or Property Managing the right home for you.
---
Finding the right agent was just as important to us as choosing the right home and we are blessed to have worked with Portia. Her approach was to build a trusting partnership with us to determine our needs, quickly locate homes that matched what we were looking for and providing her sound expertise every step of the way. The genuine care and passion that Portia exhibited towards us throughout the home buying process truly helped to put us at ease when this could have been a highly stressful time for most people. All of this, coupled with Portia's open communication and prompt follow up are just a few of the reasons why we would highly recommend that others choose to work with her." ~ Georgette J.
---
"I highly recommend Portia Wright. Portia is a very dedicated and thorough agent. She is friendly, knowledgeable, and certainly works hard to make sure that you get what you want. She doesn't impose her views on you, but she will make constructive suggestions to assist you in getting what you want. Portia is the "go to" agent and I will always use her. You can't go wrong when she is on your team!" ~ Michelle M.
---
"As a first time home buyer, I was very nervous about the process and if even owning a home was in reach. Portia not only was patient with me, she answered my questions fully and made sure I understood what was being explained to me. She was courteous, personable, and above all she was focused on my needs and preferences in selecting and purchasing my home." ~ Timothy V.
---
"We had more than just a need for a home and a good agent, we had an urgency. My mom had become ill and would soon come to live with us and we had terminated our lease agreement with the apartment we were in. We were virtually homeless. Portia took the time to understand our needs and our time constraints; thus she became our agent and advocate. I will never forget the day she called and said "I've found your house." Within thirty days she was standing at the door with the keys, welcoming us into our new home." ~ Sheryl and Luther S.